See The Simmons Brothers in Pantomime Season 2001-2002 at Birmingham Hippodrome Theatre, from 22 December 2001 to 24 February 2002.
Full details: http://www.hippodrome.ws
Box Office: 0870 730 1234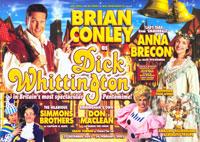 "There is a comedy duo who tour with me regularly. They are the Simmons Brothers, and they are two very funny guys who never fail to have their audience in raptures of laughter".
Sir Norman Wisdom OBE in his book - 'Cos I'm a Fool'.
"The natural successors to Morcambe and Wise".
Bill Pertwee in his book - 'Beside the Seaside'.
"Our most underrated comedy team".
Roy Hudd in his book - 'Music Hall, Variety & Show-Biz Anecdotes'.
"The magnificent Simmons Brothers provide comedy excellence. To watch audience reaction when they are on stage is to see uninhibited joy".
Kevin Berry - 'Stage' newspaper light entertainment critic.
"The funniest double act in captivity".
Ken Dodd OBE.
Website last updated 6 January 2002