Back then they were called 'The Simmons' - but added the 'Brothers' tag as they took on more stage and cabaret work. Comedy began to creep into their vocal act as they found they enjoyed making people laugh. Slowly songs were dropped in favour of routines and it wasn't long before they became a fully fledged comedy double act in the great tradition of Jewel and Warris or Morcambe and Wise. Not that they tried to copy any of their contempories. Alan ans Keiths comedic heroes were, and still are, Laurel and Hardy, so a visual approach to humour became their favoured genre.

Pantomimes, summer seasons and the cabaret clubs which had sprung up in the sixties, became their working life with an occasional television appearance or radio interview thrown in for good measure. Although the clubs, in the main, have now gone, the boys year is still taken up with many live appearances.

In 2000 they worked in Pantomime in Newcastle and summer season in Margate. 1999 was 'Aladdin' in Swansea and a summer in Paignton and '98 found them at Nottingham Theatre Royal for 'Dick Whittington' and on Cromer Pier for the summer months. Their first summer season was on the Isle of Wight in 1966 where they played cabaret six nights a week alternating between Nodes Point Holiday Centre at St Helens and Fort Warden, Totland bay. Their first adventure in Pantoland was 'Puss in Boots' at the Theatre Royal Bath in 1968. Since then they have played in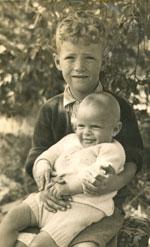 The earliest known photograph of Alan and Keith.
Alan & Keith, 'The Simmons Brothers' are two genuine brothers who grew up in Kent - first Blackfen - then Welling - now Dartford. Both their parents (May and Clarence) were musicians and their eldest brother Denis was a ventriloquist but died at the tender age of nineteen just as he was embarking on his chosen career. Their other brother Victor spent his working life in the tea trade and is now retired.
The boys - and we use the term loosly - became professional entertainers in 1966. Their first major venture was to record for Pye Records. The outcome of the session was 'Take Me Where The Sun Shines'/Leanne PYE 7N which was produced by Tony Hatch and included Jimmy Page on guitar and Ronnie Verrall on drums. 'Last year Take Me Where the Sun Shines' was re-released on the compilation CD Rainbows - (Ripples Volume 7) NEMCD 431 by Sequel Records.